8 AI Video Editing Tools That Will Blow Your Mind
I'm going to be comparing 8 of the best AI video editors on the market today to help you save time and improve quality when it comes to editing videos.
Myself and my team have used pretty much every video editing tool out there over the last 18-months since we've been posting videos online and we tend to use Premiere Pro and Veed on a daily basis so I was stoked when the team at Veed offered to sponsor today's video.
AI video editing tools have saved us tonnes of time when it comes to creating long-form videos as well as for repurposing existing content but choosing the best ai video editing software can be really tough as there are just so many options out there.
Whether you want to create high-quality videos with AI, edit existing videos, or even create videos from blog posts and text, these 8 AI video editors have you covered.
I've added in links down below so you can try them out for yourself so hit that subscribe button and let's jump into the first AI video editing tool.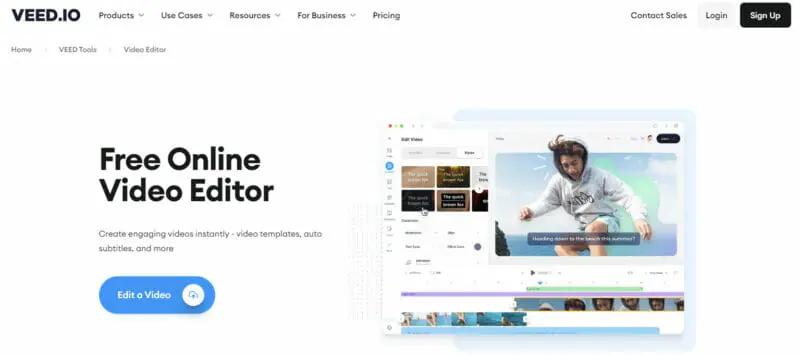 First up we have Veed. If you're not familiar with VEED it's a cloud based video editing platform which is a little bit more accessible than tools like Premier Pro or Final Cut if you want to create or repurpose video content quickly.
I've been using VEED for a little while now and I'm on the Pro tier license. I've mainly been using VEED for repurposing content into shorts where AI tools like the auto-subtitle creator are really fast and pretty accurate. I also find the simple re-sizing tool is really helpful when it comes to repurposing content and is quite a bit faster to work with than Premier Pro which is the go to editing software my team uses.
Some of the newer AI video features I've been playing with include the ability to remove the background from a video, translating the video into other languages and generating background music using AI.
Veed's key features include one-click subtitling, auto-translation, removal of background noise and unwanted pauses, cropping, cutting, transitions, custom branding, compression, replacement of backgrounds with a new image or another video, format conversion and application of various visual effects and audio visualizers.
Being cloud-based, it is ideal for teams, avoiding slow file transfers and laptop storage issues. Instead, you can keep all your video projects online and accessible. Allow multiple editors to work on the same project. Share videos via a URL, collate feedback comments and keep existing videos up to date. When you're ready to share simply use a URL or embed the video directly into a website. Common use cases I've used with VEED include social media videos, training videos, help videos, marketing videos, recruitment videos, onboarding videos where you can take advantage of their AI avatars which are available on business and enterprise tiers.
VEED has a free tier that's ideal for one-off projects that are under 10 minutes and then Basic, pro, and business plans provide unlimited access to stock audio, video, and text animations.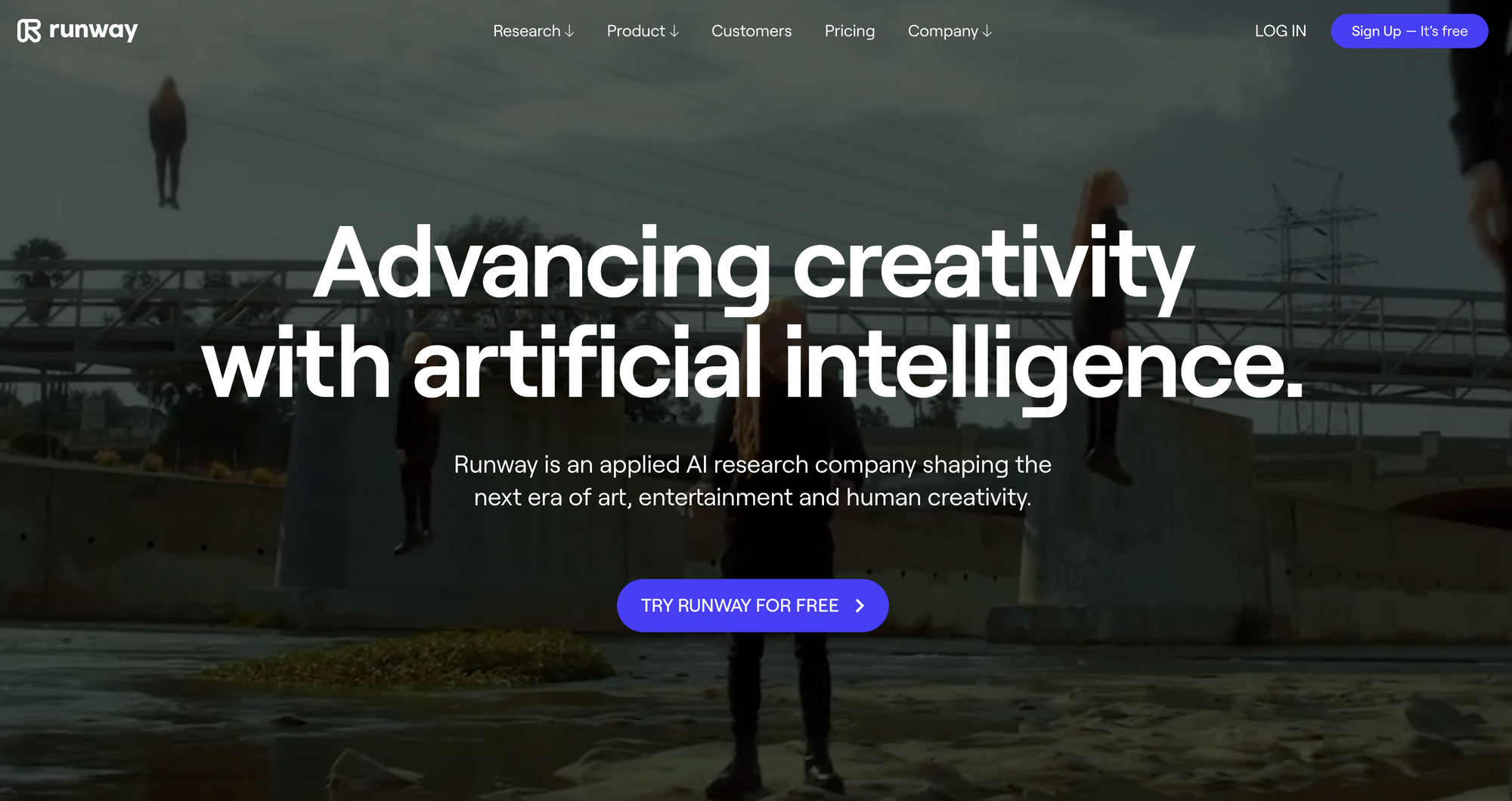 Next up we have Runway. Runway is leading the charge when it comes to text to video AI. With it's Gen-1 model available on iOS and Gen-2 able to realistically and consistently synthesize new videos it's really exciting to see what lies ahead for AI-generated video. Runway is essentially a suite of AI video tools featuring everything from training custom models to slowing down and removing the background of existing videos. Gen2 is absolutely incredible with live video masking and generative video from text.
It's s one of the best AI video editors on the market and is equipped with a full suite of content creation tools to speed up your video editing.
There are over 30 AI-powered tools within runway allowing you to use this video editor to generate brand new AI video content or edit your existing footage.
You can remove video backgrounds, paint out objects, edit audio tracks, blur faces, generate automatic subtitles and transcripts, and more.
Plus, the editor offers automatic noise reduction, automatic subtitles, and automatic beat detection.
You'll especially like this ai video editing software if you struggle with removing backgrounds, cutting out objects and other video editing nightmares
Runway comes with a Starter plan: free (3 projects, 5GB assets, limited AI tools options) and then paid pro and team plans that offer more storage and additional ai tools.
Next up we have InVideo which is the perfect platform for creating engaging, professional-quality videos.
This easy-to-use tool makes it simple to turn your ideas into videos in real-time with a library of built-in templates and media making it easy to get started.
With InVideo, you can add voiceover, customize templates by changing colors, animations, transitions, social media posts, shapes, emojis—and more.
InVideo's AI editor is really easy to use. You can select from three different types of video and then edit your prompt based on what you would like to create.
InVideo comes with a free tier and then paid tiers offer mobile app access, access to AI tools and more.
4. Pictory
Pictory is an online AI video editor that automatically extracts the best parts of your long-form content and creates highly-shareable branded videos.
With Pictory, you can easily transform blog posts, articles, and other text-based documents into engaging videos with just a link as an input source.
It provides full access to over 3 million licensed stock videos, images, and background music. Its advanced AI technology automatically extracts key points from your content and combines them with stock videos, images, music, and text to create high-quality videos.
You'll especially like this video editing tool if you want to create videos from your existing (written) content and you want to create videos without a human face, with only images and text.
Pictory's Basic plan starts at $19/month for 30 videos and then premium plan and custom plans increase in price for more videos.
5. Descript
Descript is an AI video editing software specializing in editing videos rather than generating them from scratch.
With Descript, you can write, record, transcribe, edit, collaborate, and share your videos.
Its advanced AI technology automatically describes your recordings so you can edit them like a document which is really cool.
Additionally, Descript enhances sound quality, removes filler words, and features their Overdub tool that allows you to clone your voice.
The extensive templates gallery and premium media make video editing an even greater experience.
I tend to default to Descript if I'm looking at making post-production edits or I want to transcribe a video to text.
Descripts Free plan comes with 1 hour of transcription and then creator pro and enterprise plan increase your storage.
Next up we have Vidyo which focuses on creating short form content. It can take my team ages to crop content, add captions and transitions to make short form videos as engaging as possible.
With Vidyo you can upload a video or just add a YouTube link and then the AI will automatically split up your long form content into shorter videos that can be used across socials.
You can adjust captions and even style your video all in a matter of minutes.
Vidyo comes with a free tier and then paid plans start at $14/month.
Next up we have Opus clip.
Opus clip offers a similar experience to Vidyo for repurposing long form video into short form content but also adds in a virality score that identifies the most compelling hooks and segments of you long video. I've used both and while their ability to detect cuts isn't perfect they definitely save time and can reduce costs if you don't have an editing team.
Opus clip has a free forever tier that comes with 60 minutes of free upload minutes per month and then paid plans start at $19/month.
8. RawShorts
Next on the list we have Rawshorts. RawShorts is an excellent AI video editing software designed for animated videos that offers a wide range of features.
One of the standout features is its text-to-video maker, which allows users to create animated videos from written scripts using a built-in AI assistant.
It also features animated charts and over 1 million stock media assets.
RawShorts AI video editor is easy to use and is thus ideal for creating high-quality animated explainer videos, promo videos, and whiteboard animations.
You'll especially like this video editing tool if you specifically want to create animated videos.
Pricing starts at $20/month for 25 exports.
The best AI video editor?
Choosing the best AI video editor can have a significant impact on the quality of your videos.
The 8 AI video editors we've discussed each have their own unique features and capabilities that cater to different needs.
If you want to create AI video content with human-like presenters, then Veed should be your go-to video editing tool.
If you want to create videos in multiple languages, you should go with Descript.
If you're looking for AI video editors to edit your existing video footage, then we recommend Runway.ml or Descript.
If you want to create cartoon style videos, you should try RawShorts.
However, as mentioned above, choosing the perfect AI video tool depends on many factors.
Fortunately, all of the video editing tools we discussed in this article allow you to create and edit at least one AI video for free.