The Top 10 Best FREE Project Management Apps in 2023
Getting organized and using software to manage the projects and tasks you're working on is one of the most effective ways to stay productive and get more work done in less time.
Whether you're studying for an exam, planning your workouts, building a business or posting to socials having a go to project management app will help you hit those deadlines and reach new productivity peaks.
The problem is that Kaban boards and task management tools are pretty easy to build and if you search on the app store or google for a project management tool there are a tonne of options out there and it can be really difficult to figure out one is the best especially when the business tier paid options scale up really quickly.
So to help you out I signed my company up to as many free project management tools as I could find, filled my Mac and phone with them and then used each of them to manage various business and personal projects over a week long period to find out which were the easiest and most effective to use as a solo user and for a company.
I then compiled a list of what I consider to be the 10 best project management apps that you can use without paying anything and I've even included a bonus 11th at the end together with my personal take on what THE best project management app is and why.
Clickup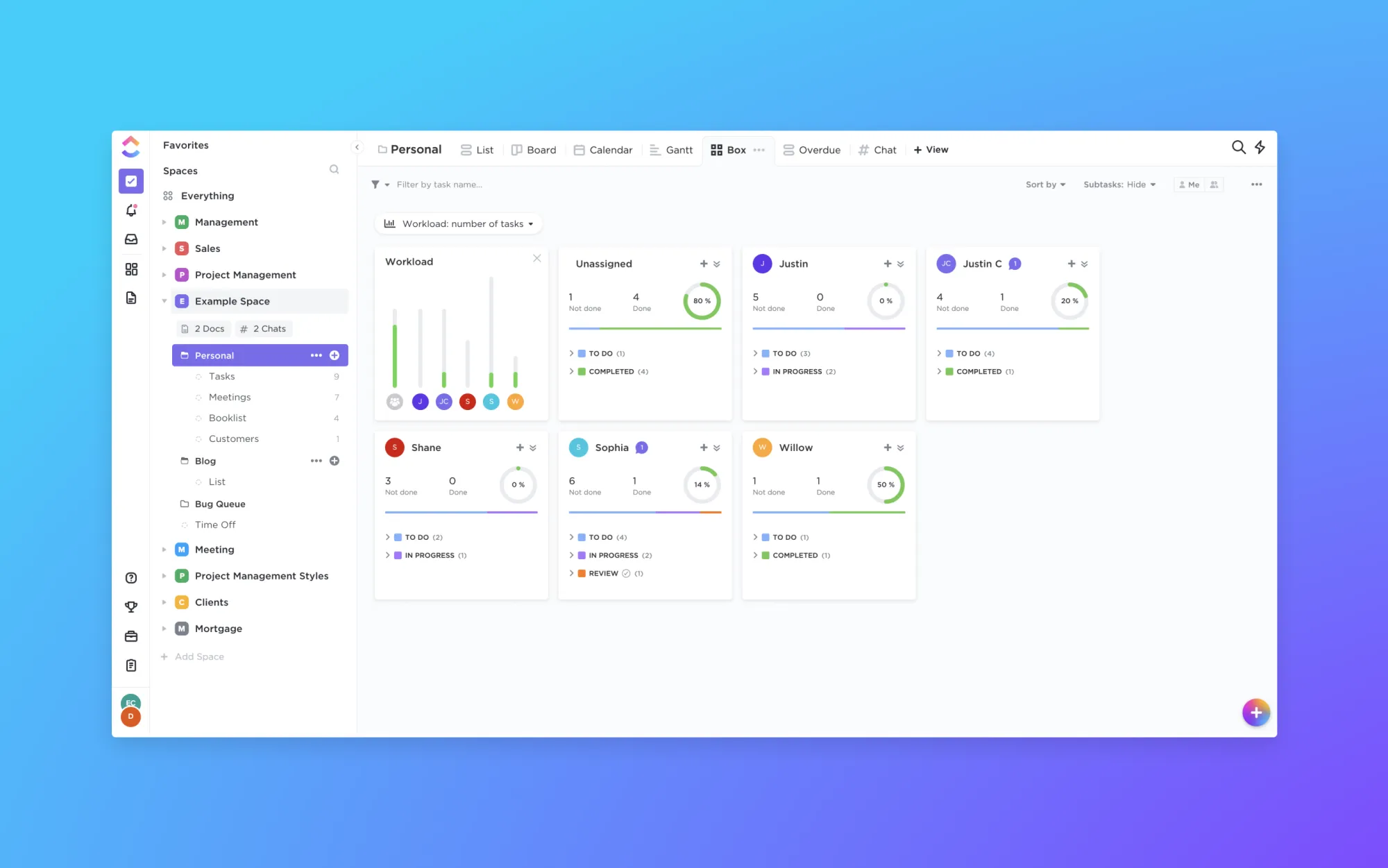 Like many project management apps ClickUp goes big on allowing you to plan, organize, and collaborate on any project with powerful task management that can be customized for every need. One big differentiator for me with Clickup is the UX and specifically the number of customizable views you can choose from. ClickUp offers the standard list, Kaban board and calendar task planning view but then has a further 8 advanced views which include a Gantt chart, a mind map, a timeline and even a map view.
For me the real power comes from ClickUps 4 page views which allow you to embed forms documents and chat with team mates from within the software. I also really like the new embed page view which allows you to embed docs and videos alongside tasks to reduce context switching and consolidate resources for tutorials and training.
The interface is simple yet satisfying, with spaces to plan, schedule and manage your work all on one platform, in addition to communicating with your colleagues or peers.
You can create, share and edit documents with comments for feedback, plus you can assign tasks to other team members and check the progress on your custom dashboard.
ClickUp allows for unlimited users and gathers all of your team's information in one easy-to-use platform.
Tasks can be made using templates and visualised through charts, calendars and timelines, so you can literally track your progress in a variety of ways!    
Clickup includes lots of native integrations with services like Slack, G Suite and Dropbox plus you can connect to thousands more through Zapier.
If you use Outlook as your go-to email service, you can even set-up a task directly from there!  
As with many of these project management apps, there is the option to pay for plans with extra features like unlimited storage.
For clickup this starts at $5 per member per month and offers unlimited projects, views and storage plus goal tracking to track team OKRs. In my experience, the free version comes with plenty of tools and features to allow you to manage your projects effectively.
And don't worry, the app won't force you to convert to a paid plan after a certain time period because with its 'Free forever plan' Clickup seems dedicated to providing a free service, well, forever!  
Trello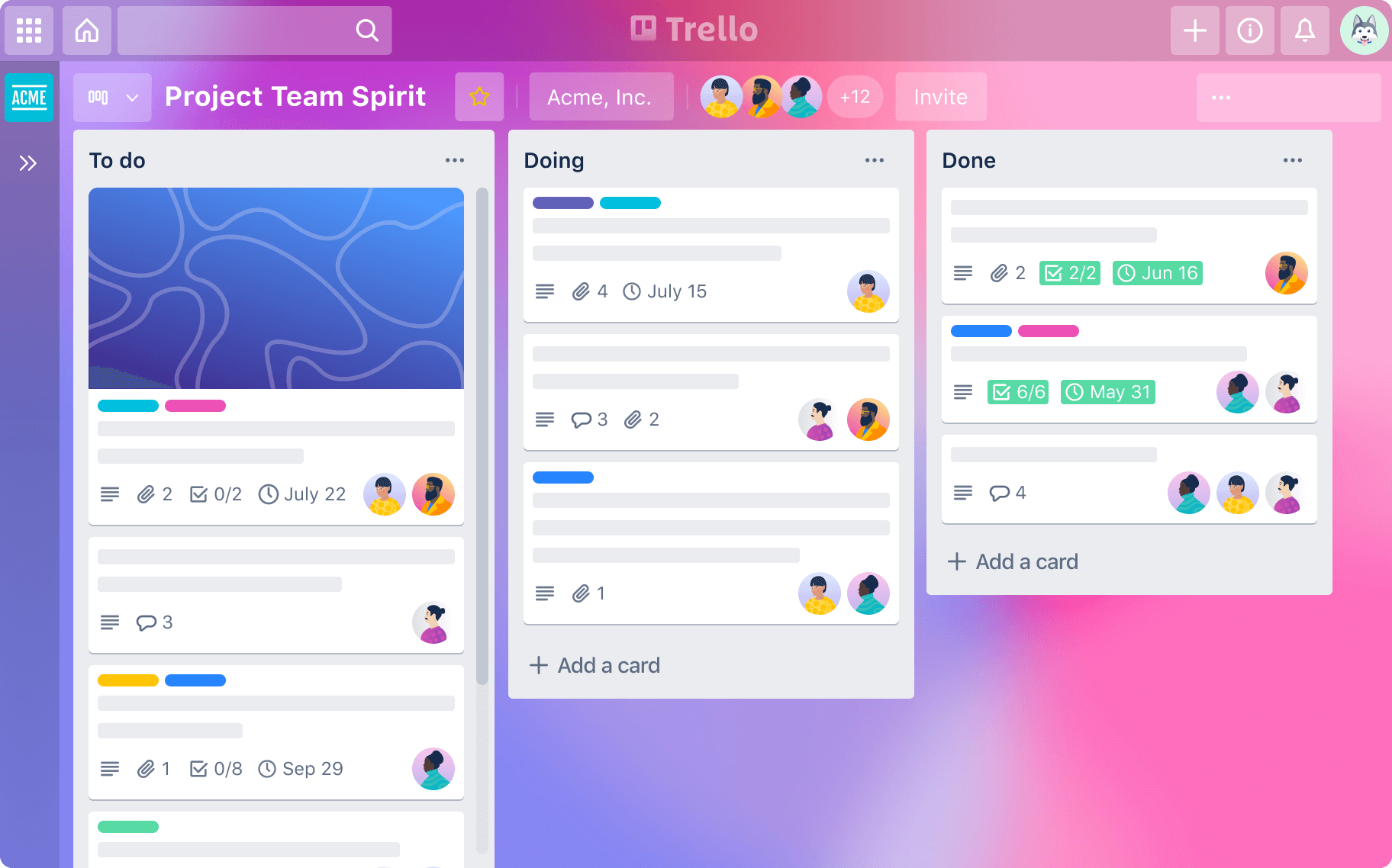 Next, we have Trello!
This one's been around for a while now, since 2011 in fact, and there's a reason it has withstood the test of time. Simply put, it's easy to understand and it's reliable.
Trello uses a Kanban-style list format where you can create tasks and drag and drop them into different sections.
By creating boards and delegating tasks, you can freely customize your workflow and arrange it under various headings such as a 'To Do' list, or a 'Completed' heading.
Attaching files to boards is easy (though there is a file size limit on the free version), and you can add deadlines to tasks which will turn yellow as they approach and red once overdue. Checking the tickbox when a task is completed will turn it a satisfying green though, giving you and your team the impetus to work hard and make sure your board stays green throughout!
Trello has become a popular way of managing a project, whether you're using a PC, tablet or even your smartphone. Trello is supported by both Windows and Mac, Android and iOS, with a dedicated version for the iPad Pro.  
Trello offers a free forever option which caps your storage and your number of boards to 10 and then paid options start at $5/user/month with unlimited storage and boards and some advanced checklist features. If you want multiple views like ClickUp you'll need to go for the $10/user/month option to access calendar, timeline, table, dashboard and map views.
Jira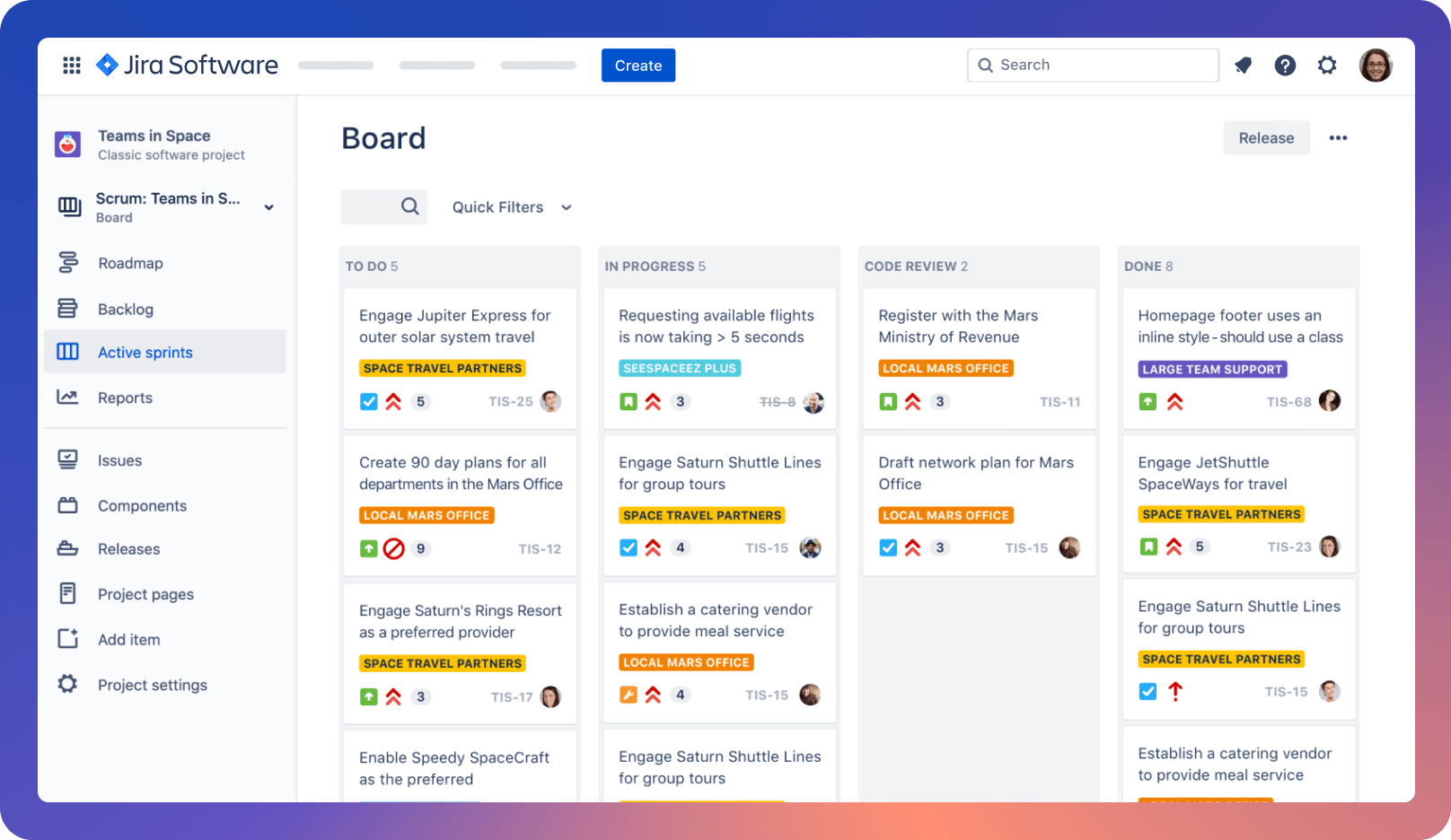 Jira is another product you may well have heard of before, and it's even older than Trello, with its initial release all the way back in 2002!
It started out as software for tracking bugs (of the computer kind, not literal bugs), but has become well-known for its work management offerings.
Like Trello I've used Jira alongside tech teams in my businesses.
Described by some people as "functional and effective but not pretty," Jira supports multiple platforms and features a similar drag-and-drop Kanban system to Trello…it just may not look that appealing.
Nevertheless, Jira allows users to seamlessly create tasks and distribute them across your team. Users have access to information from thousands of business apps, from design and monitoring tools to source code and productivity.
Deployable through desktop, mobile or via the cloud, Jira has excellent support options including an email/help desk, forums, phone support and a 24/7 live chat function.
Jira's Project Management Software is free to use for small groups of up to 10 users but for teams of 11 or more, it currently charges $7 per user per month.
Monday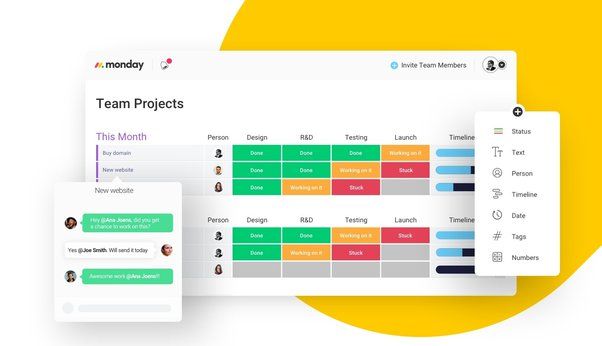 If you're big into customization, then Monday is an award-winning project management app you might want to consider.
Used by companies such as Hulu, BBC Studios, Coca-Cola, Adobe, and many more, the app doesn't just look amazing but it also has a host of features that will make managing your project a breeze.
You can upload and attach files to cards, make comments, mention teammates, and there's a reporting dashboard where you can track your progress across multiple boards, meaning you get a better overall sense of how your team is doing.
You can even use Monday to track work hours, timelines, and invoices, although I'd still recommend a separate accounting app for managing things like payments.
Monday's flexibility is where it truly shines. It can be used in conjunction with Google's apps like Drive, Calendar and Gmail, plus it can be linked to the likes of Jira and Trello, plus many more.
While Monday offers a free plan for up to 2 users and 3 boards and then anything more generally costs $10 per user per month, although there is usually a free 14-day trial too.
Asana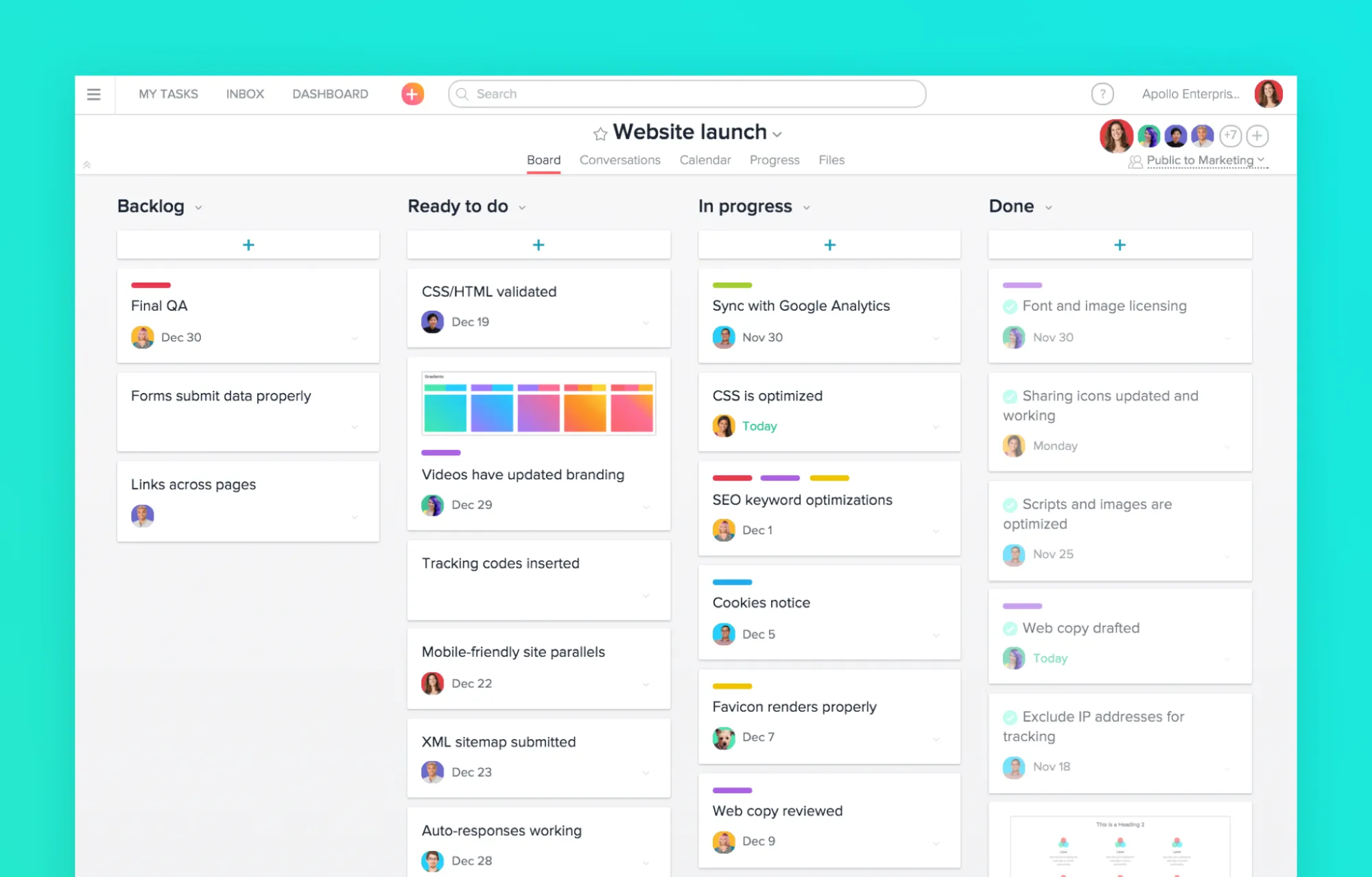 The next project management app is a cloud-based platform that has more of a focus on teamwork and the tracking of goals. It's called Asana.
With Asana, you can create multiple to-do lists and set reminders to make sure you always hit your deadlines. Add instructions and assign certain colleagues to tasks while leaving comments on specific items for them or everyone to see.
The layout and interface is really nice with simple whites and pastel colours and the Asana team have tried to inject some fun and gamification into task completion by having confetti and a narwhal pop-up when you mark a task as completed.
Almost everything you do can be tracked using Asana and the paid enterprise tiers feature something called portfolios which let you group projects together and then see multiple projects which is great if you have a large business like me and have multiple teams like sales, marketing and engineering who each have lots of projects.
While you can opt for Asana's Premium, Business or Enterprise tiers, the free Basic tier retains plenty of functionality with unlimited tasks, projects and storage and the ability to collaborate with up to 15 team mates. The Asana app on mobile, tablet and MacOS is also really nice too.
Airtable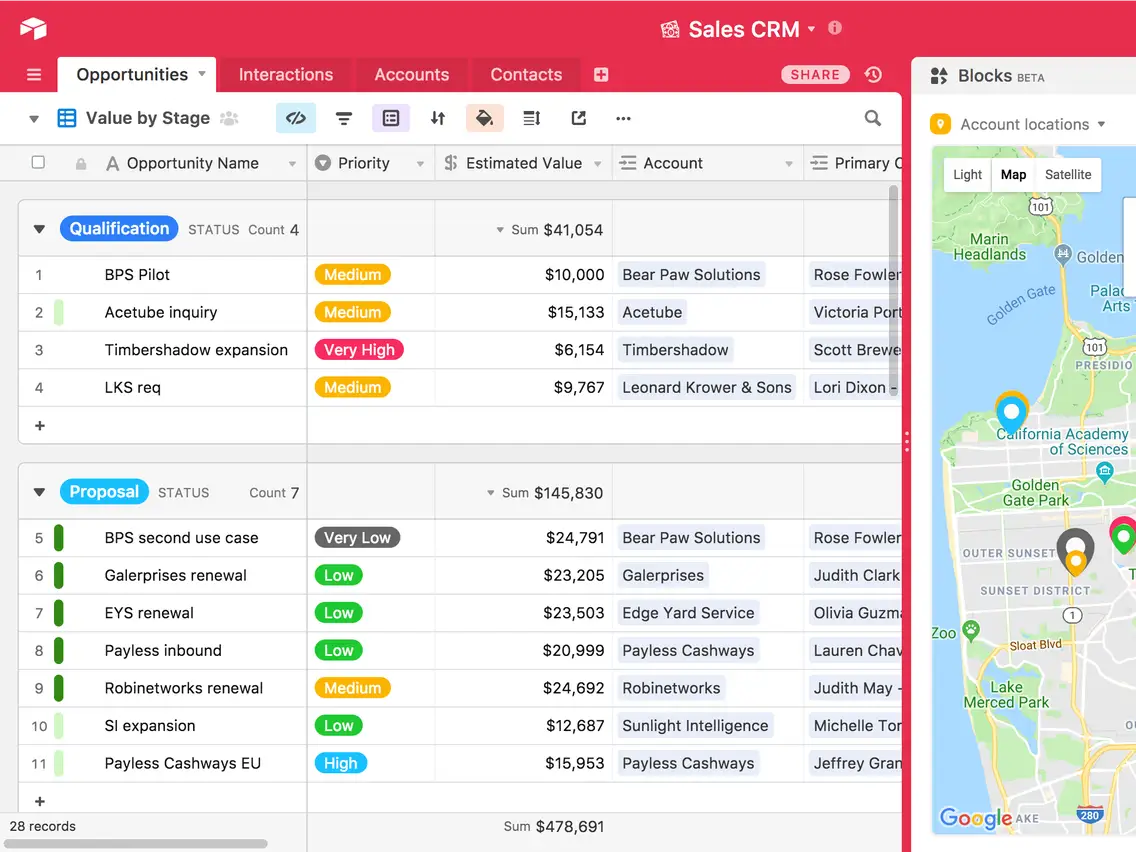 Next is Airtable, a super powerful work management app for building project databases but one that may take a bit more time and dedication to master.
Featuring a vibrant, modern and robust user interface, Airtable has a wealth of options for you to use, such as long text notes, checkboxes, links, barcodes, attachments and records.
Airtable is a little different from the other project management tools we've seen so far. It's kind of like Microsfot Excel on steroids and it's USP is really allowing you to build connected apps that can then be used to connect your work and project management,
You have the freedom to arrange your project in a way that suits your team, with advanced filtering, sorting and grouping options that allow you to zero in on key areas.  
By using Zapier or other integration software, you can link Airtable to the likes of Asana, Evernote, Facebook and many other apps bringing all of your data into one place and creating powerful automations.
For example you can set up a form that auto-populates a table view list.
The main problem might be getting used to Airtable, with certain features not as straightforward as on other apps, and a lack of tutorials on-site to help you learn. However, if you're feeling confident then the risk may well lead to greater rewards!
A free version of Airtable is available to use for up to 5 people, otherwise, prices start at $10 per user per month.
Notion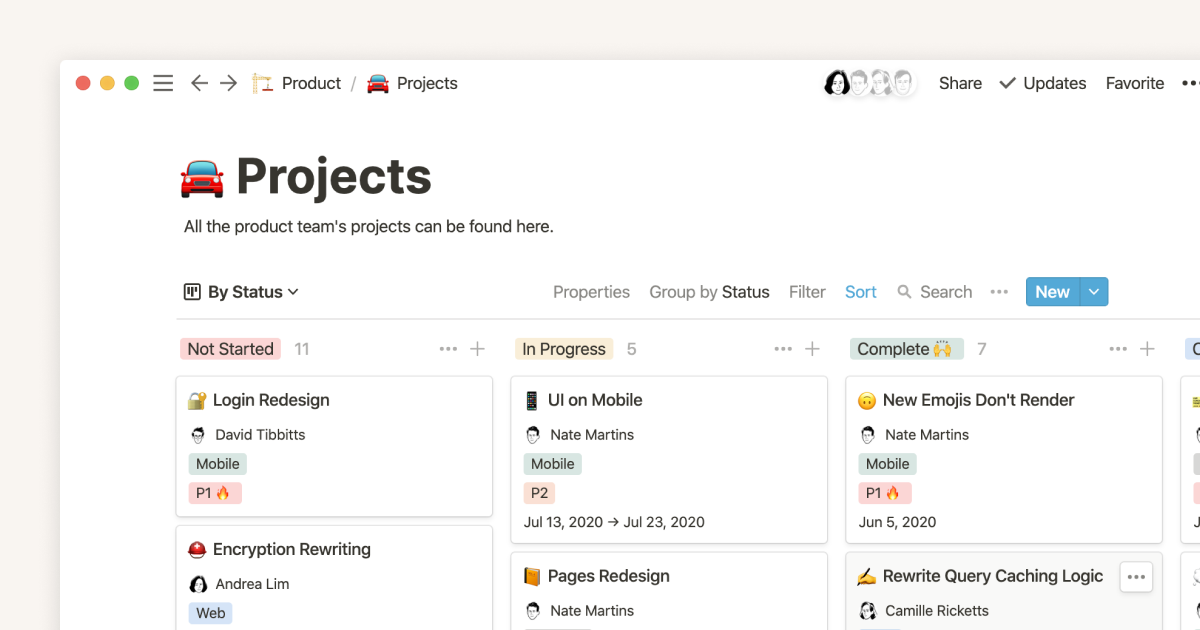 Next up we have Notion which like Airtable puts a huge emphasis on customization but unlike Airtable Notion is a work management app that is incredibly easy to use but it does lack some of the more advanced features.
Part note-taking app and part task management tool, Notion sets itself apart by combining project management with wikis and notes, making it a brilliant option for creative minds like writers and graphic designers.
While it does seem to be primarily focused on the note-taking side of things, it can still give even the best project management tools a run for their money.
Notion organizes pages into blocks, allowing you to insert calendars, timelines or use it as a kanban board.
An interactive editorial board gives you a decent overview of any ongoing projects and while it may lack the flair of other applications, it's pretty straightforward and easy to comprehend.
Notion is great for solo-users and small teams but lacks some of the enterprise reporting functionality and automation seen in apps like Asana and Clickup.
Notion is free to use for a single user with a 5MB file upload limit. A personal pro plan with unlimited file uploads starts at $5 a month and a team plan for unlimited users is $10 per month.  
Basecamp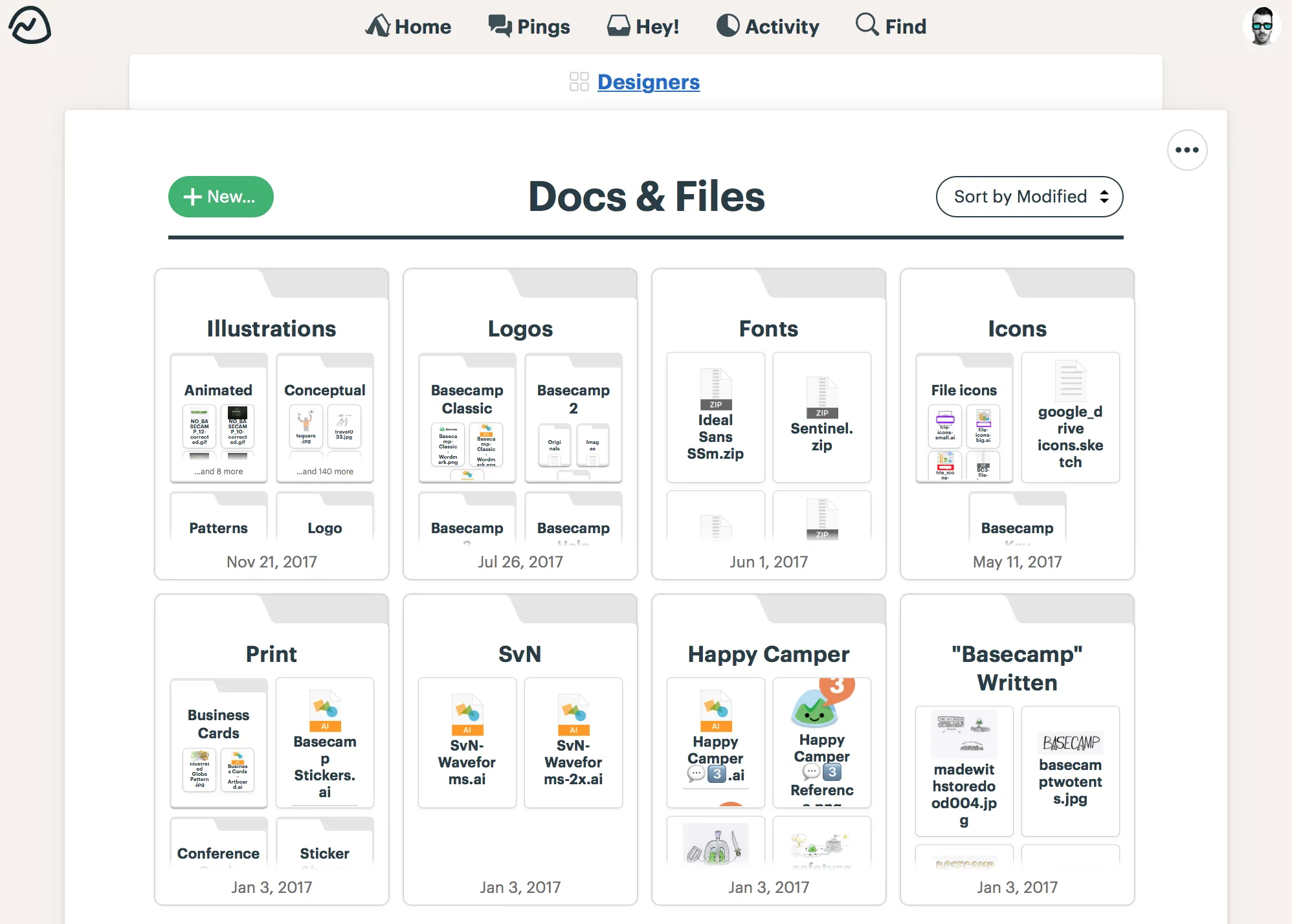 Basecamp was the very first project management tool that I ever used when setting up my first business and working with developers. It's been around for 20 years and it's extremely easy to set up and flexible in it's features but it lacks some of the features of lager work management tools.
Basecamp markets itself as an "all-in-one toolkit for working remotely." It has a treasure chest of collaboration tools, such as group chat, message boards, and team schedules.
It's not your typical project management platform with a much more basic design and UX. This is a bit of a double-edged sword as while Basecamp is very easy to start using it's chat functionality can feel a bit siloed if you're working with a larger team.
Real-time communication options such as group chat, message boards, and pings are at the core of what makes Basecamp special. It means you don't have to use a third-party communication app and you can do everything in one place.
Unlike other project management tools, Basecamp allows you to set up custom access settings for clients so they can see how you're getting on too. This eliminates the endless back-and-forth between you and the client, saving you both valuable time so it's a great option if you're setting up a small service business.
You've still got your usual tools such as calendars, notifications and the ability to share and upload files.
A Basecamp Business account costs $99 per month but covers your entire team (another reason why it's more beneficial for larger groups). However, a Personal plan is available completely free, with features such as storage space limited, as you'd expect.
Wrike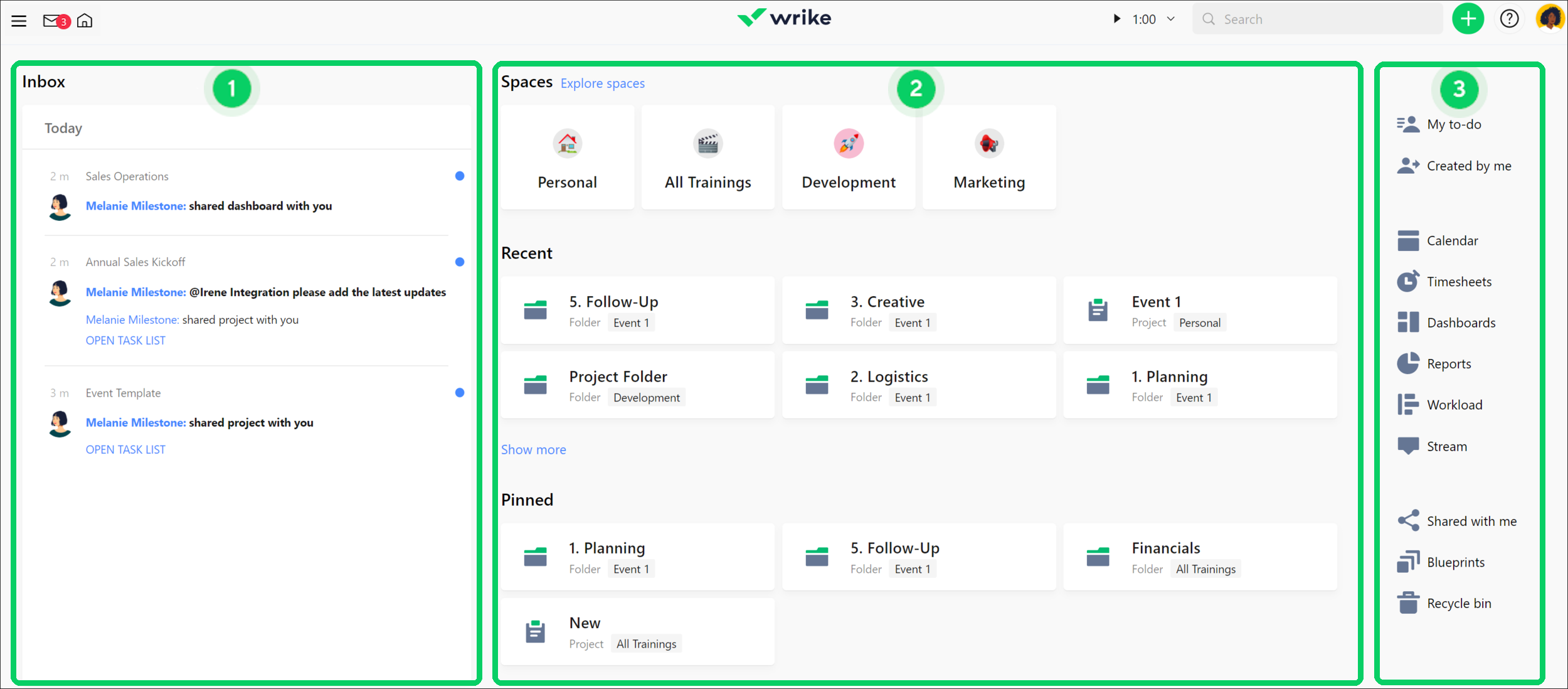 Wrike is another simple-yet-effective project management software that checks the box for ease of use.
Wrike's interface looks smart and it's fairly intuitive, meaning you can get to work immediately and start tracking your projects and milestones without any difficulty.
There are a number of different options for viewing your workload, with information presented in the form of lists, tables, Kanban boards and Gantt charts (though the latter is only available with a Business plan or higher).
Tasks are sorted into workflow categories where their status is defined as active or complete, plus you can add custom headers if you wish to be more thorough.
One of the major drawbacks of Wrike is that it doesn't have an integrated chat option, meaning you'll likely have to communicate with your team or clients outside of the app.  
Wrike allows up to five members to work for free on a project, but you can have an unlimited amount of collaborators who are able to view projects and tasks but not edit them. Those users who are permitted to edit documents can do so on the cloud without the need to download them.
If you opt for the free account, it does include 2 gigabytes of storage but you won't be able to time track or customize your dashboard.  
A Professional plan costs $9.80 per user per month, includes 5 gigabytes of storage and comes in packages of 5, 10, or 15 users.
Excel / Google Sheets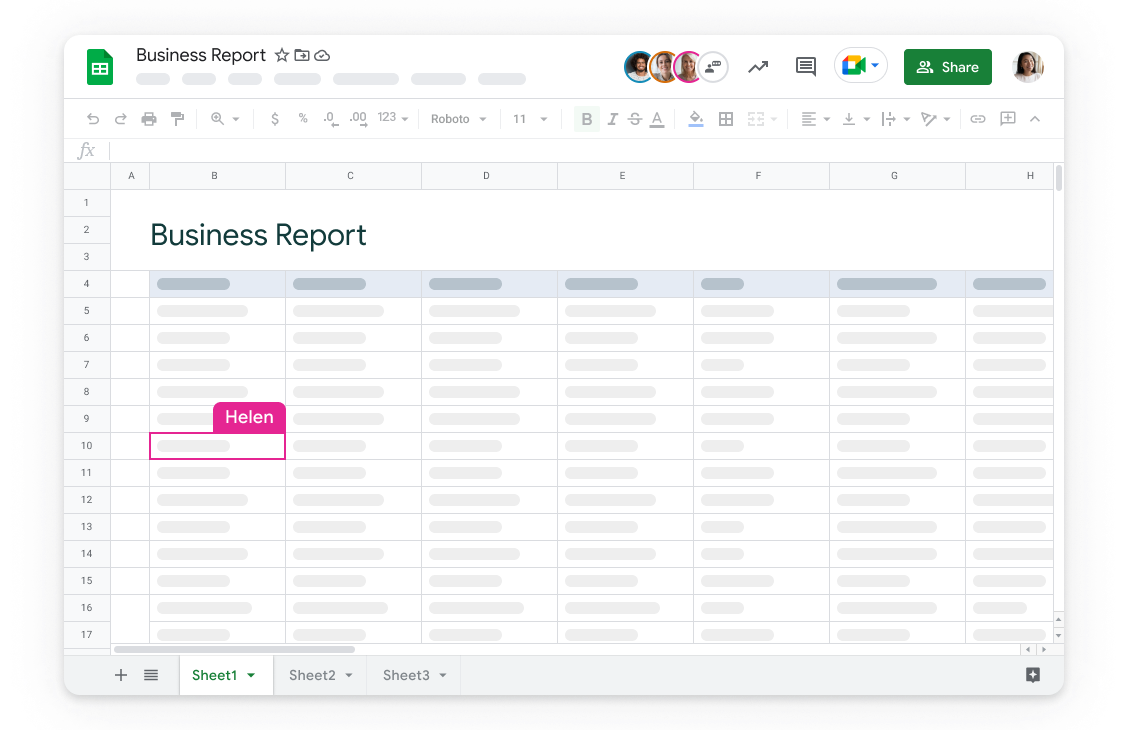 Now if you prefer to keep things really simple then why not use a free app that many people likely already have but tend to overlook…I'm talking about Microsoft Excel or Google Sheets. I'm going to group these two together as they are really spreadsheet tools but can be used to manage projects collaboratively and they're free.
If you have a simple, singular project, maybe one with a small group, using Excel could be your best solution.
Aside from most people already being familiar with Excel, Microsoft actually offers free templates within the app itself, like the Gantt Project Planner, which you can search for when opening a 'New' Excel file! Google sheets offers simple collaborative features online too and you can export google sheets to excel and upload an excel doc to google sheets.
Tried and tested, both Google Sheets and Excel allow you to create comprehensive spreadsheets in a workbook and store endless amounts of data. They're particularly good for projects involving numerical data, since you can use formulas to calculate results and ensure high levels of accuracy.
An interactive user interface lets you create task lists in easy-to-view rows and columns, plus you can set up more advanced reporting and calculations with cell formulae or download project management templates that do this for you.
You can view timelines, create graphs, charts and 3D maps, plus there are many reporting tools within Excel and Sheets to make use of.
The main obvious drawback is the lack of deeper reporting, multiple ways to view your project like Kaban boards and lack of integration with other tools that really set the other project management tools we've covered apart.
It may not be the most glamorous option out there, but if you already have access to it and want to use something you're familiar with on a small project it's worth considering.
So we've now reached the end of the top 10 free project management apps but I wanted to include a bonus. This one is a little bit different but has a really nice user interface.
Teamwork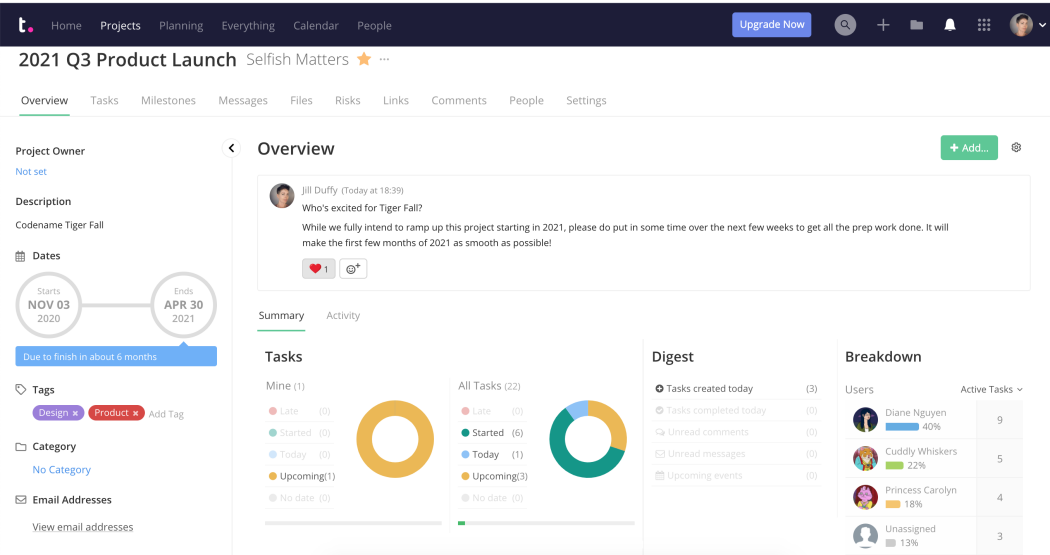 Teamwork is specifically built for client work and has a really nice intuitive design and interface with
Teamwork main USP is that it includes billing and invoicing, making it ideal for groups that primarily handle client work. Project managers or business owners can keep an eye on people's time and workload, know when deadlines are in danger of slipping, send invoices to clients for billable work, and more.
Teamwork has actually been around since 2007 and unlike many of the other project management apps on the list who have taken on lots of funding and added loads and loads of features which can make them confusing to new users Teamwork's focus on clients and invoicing with integrations to accounting software like Quickbooks means it's remained fairly focused and easy to use.
Teamwork has four account types: Free Forever which comes with 5 users, Deliver ($12.50 per person per month), Grow ($22.50 per person per month), and an enterprise plan called Scale (custom pricing). When you sign up for an account, you automatically get a 30-day trial of the Grow service with no credit card required.
My Final Thoughts
So that really is it. Hopefully that's a pretty comprehensive list of project management apps to narrow down your field of choice from the thousands and thousands out there on the web and app store. I've deliberately made this a top 10 list as I know everyone has their own preference in terms of functionality and design and what you are looking to track. As I mentioned I really tried to field test these apps to save you time and used each for a week to track a different project under the free tier. So which one was my favourite?
Well for me personally I found that on the free tier Asana and Clickup were the most feature-rich and simplest to get going with when setting up a simple small-team based project where I was looking to plan out a series of tasks that needed to be completed by a deadline and that could be assigned to others.
If you're not going to be working with a team anytime soon or just want simple collaboration rather than reporting and delegation features Notion is also a great option although you may want to pay for a paid Notion template to save you time in setting up your database.
Given that all the project management tools on the list do pretty much the same thing a lot of your decision will come down to their design, complexity and your own individual needs and tastes.