The Top 10 Best FREE AI Voice Generators (Text To Speech) 2023
AI voice generators are getting insanely realistic. You can clone your own voice, copy a celebrity's voice and even change up the emotion and tone to hear and create natural sounding voice.
Using text to speech and AI voice generators can save tonnes of time and make things like learning languages much easier.
There are loads and loads of AI voice generators out there and so it can be really difficult to know which ones offer the best text to speech features and which have the most realistic voices.
Luckily I've tried out almost every AI text to speech app over the last 5 years when creating natural sounding AI voices that power my company's virtual humans for soft skills training.
We'll explore the 10 best AI voice generators available today analyzing their features, benefits and drawbacks to help you find the best one for you.

I've added in links down below so you can try them out for yourself and I'll reveal what I think is the best AI text to speech voice generator at the end so be sure to stick around.
With that said let's get right into it with the first AI voice generator on the list.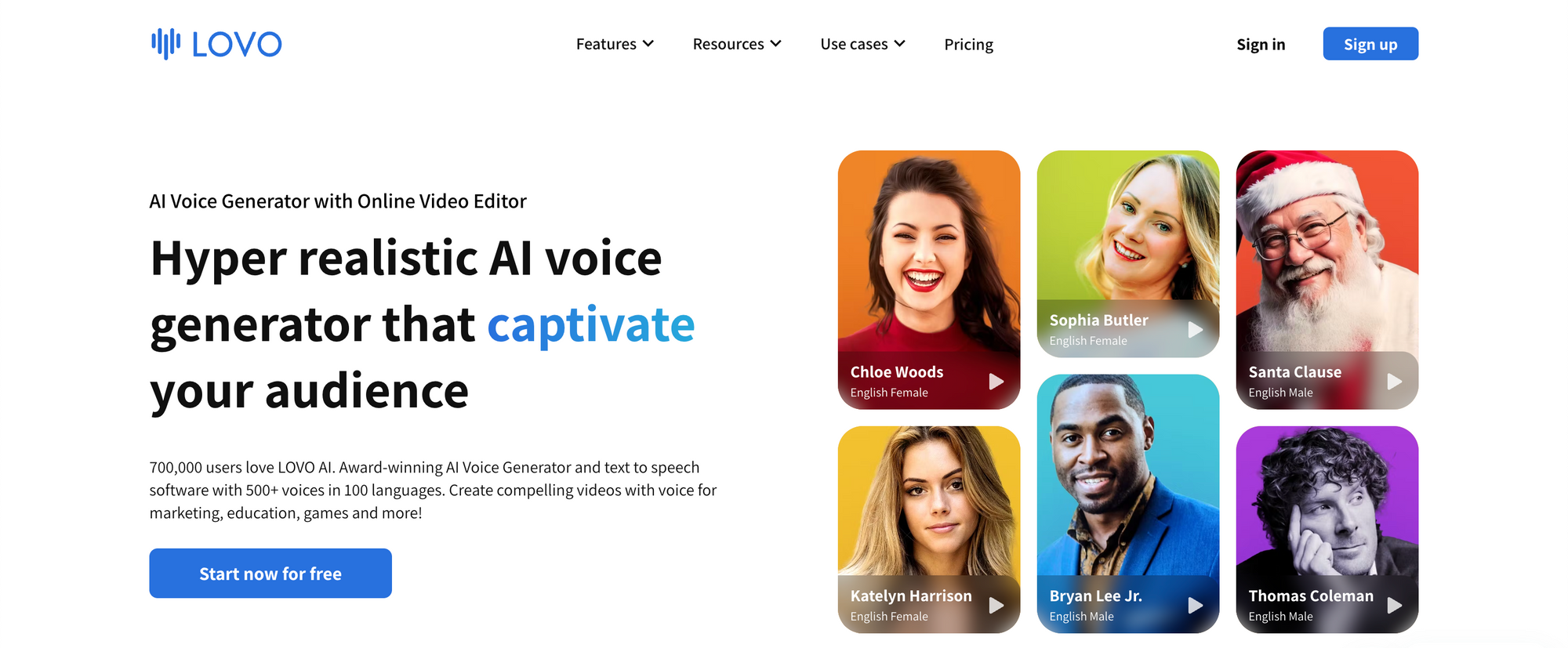 LOVO is an AI voice generator used by thousands of businesses and content creators. This feature-packed platform helps you create engaging content with realistic and human humanlike voices with 25+ emotions.
The software boasts a large library of 400+ voices for marketing, social media, explainer videos, podcasts, and many other purposes. The voices are available in 100+ languages, so you can create content for your global audience. Its intuitive interface can be easily used and contains everything you need to create a video.
It is also ideal for dubbing your videos with background music and special sound effects. Currently, LOVO has a community of half a million creators who can help you with any queries. It comes with four simple pricing plans and offers you the option to use the PRO plan for 14 days for free.
Features:
World's largest library of voices of over 500+ AI voices
Granular control for professional producers using pronunciation editor, emphasis, and pitch control.
Video editing capabilities that allow you to edit videos simultaneously while generating voiceovers.
Resource database of non-verbal interjections, sound effects, royalty free music, stock photos and videos
With 150+ languages available, content can be localized with the click of a button.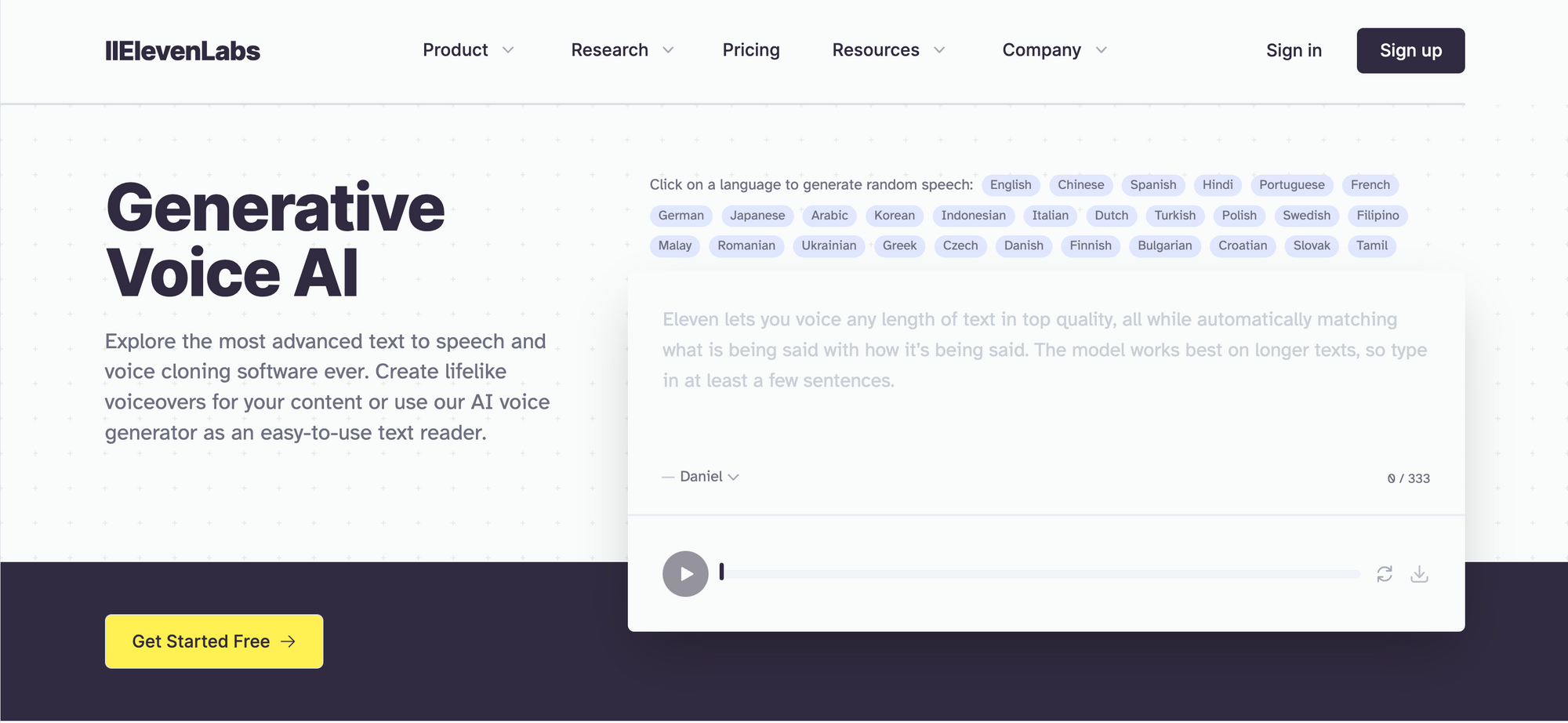 Next up we have 11-labs and having tried out hundreds of AI voice generators I can honestly say that 11-labs is one of the best AI text to speech tools out there.
It's super easy to use with voice ai a generous free tier allowing you to choose from hundreds of ai-generated voices from the community in the Voice Library. All of these voice have been
You can then use the Speech Synthesis tool to input any text have the voice you chose from the Voice Library read aloud it out loud. 11-Labs most impressive feature is it's VoiceLab however which is able to clone your own voice or create a new synthetic voice from just 60-seconds of audio where other alternatives need 20-30-minutes. The results are pretty amazing too and the voices can be tweaked and edited. Pricing is usage based with high quality professional voice cloning available on enterprise plans.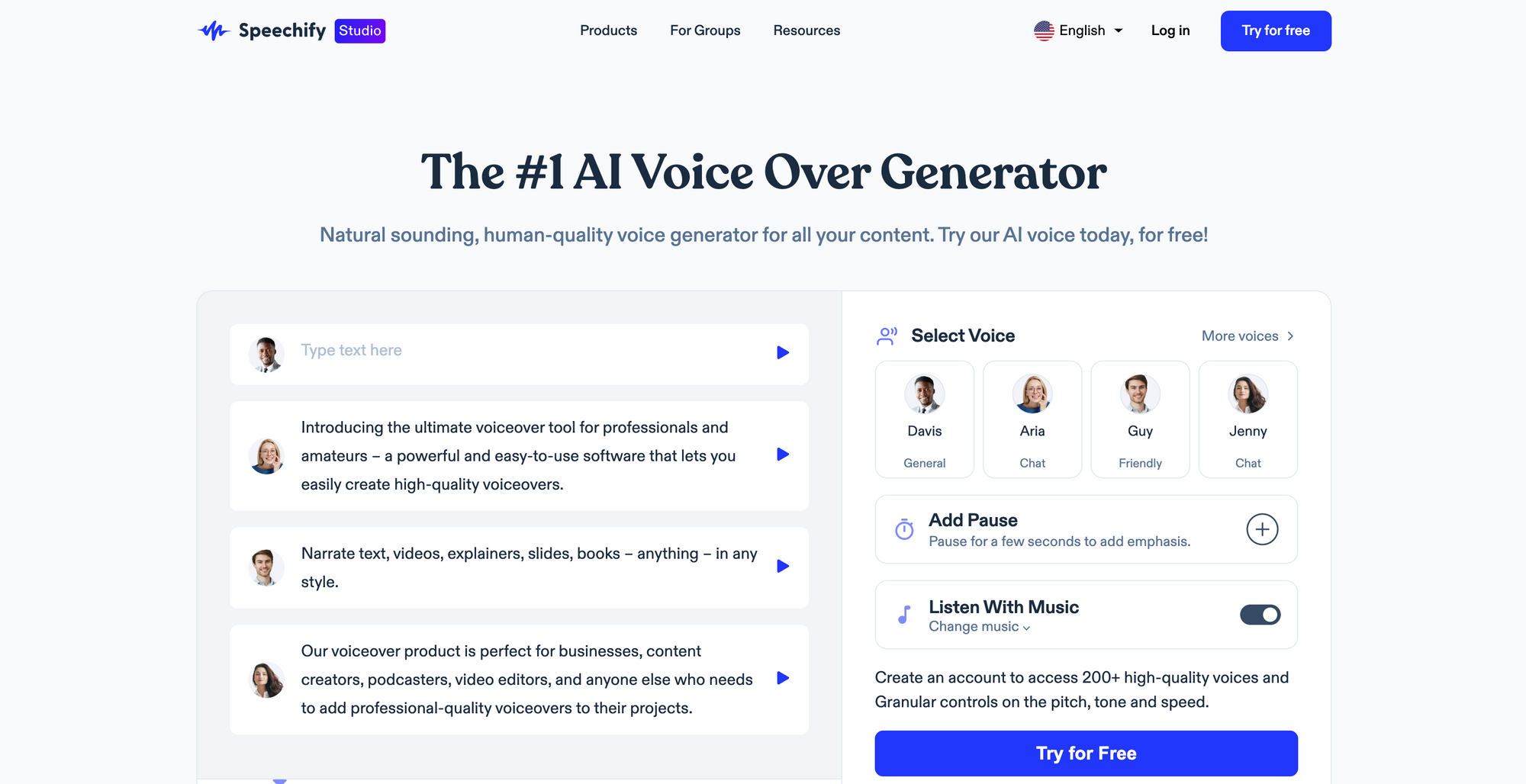 Speechify can turn text in any format into natural-sounding speech. Based on the web, the speech online platform can take PDFs, emails, docs, or articles and turn it into audio that can be listened to instead of read. The tool also enables you to adjust the reading speed, and it has over 30 natural-sounding voices to select from.
The software is intelligent and can identify more than 15 different languages when processing text, and it can seamlessly convert scanned printed text into clearly audible audio.
Key features:
Web-based with Chrome and Safari extensions
More than 15 languages
Over 30 voices to select from
Scan and convert printed text to speech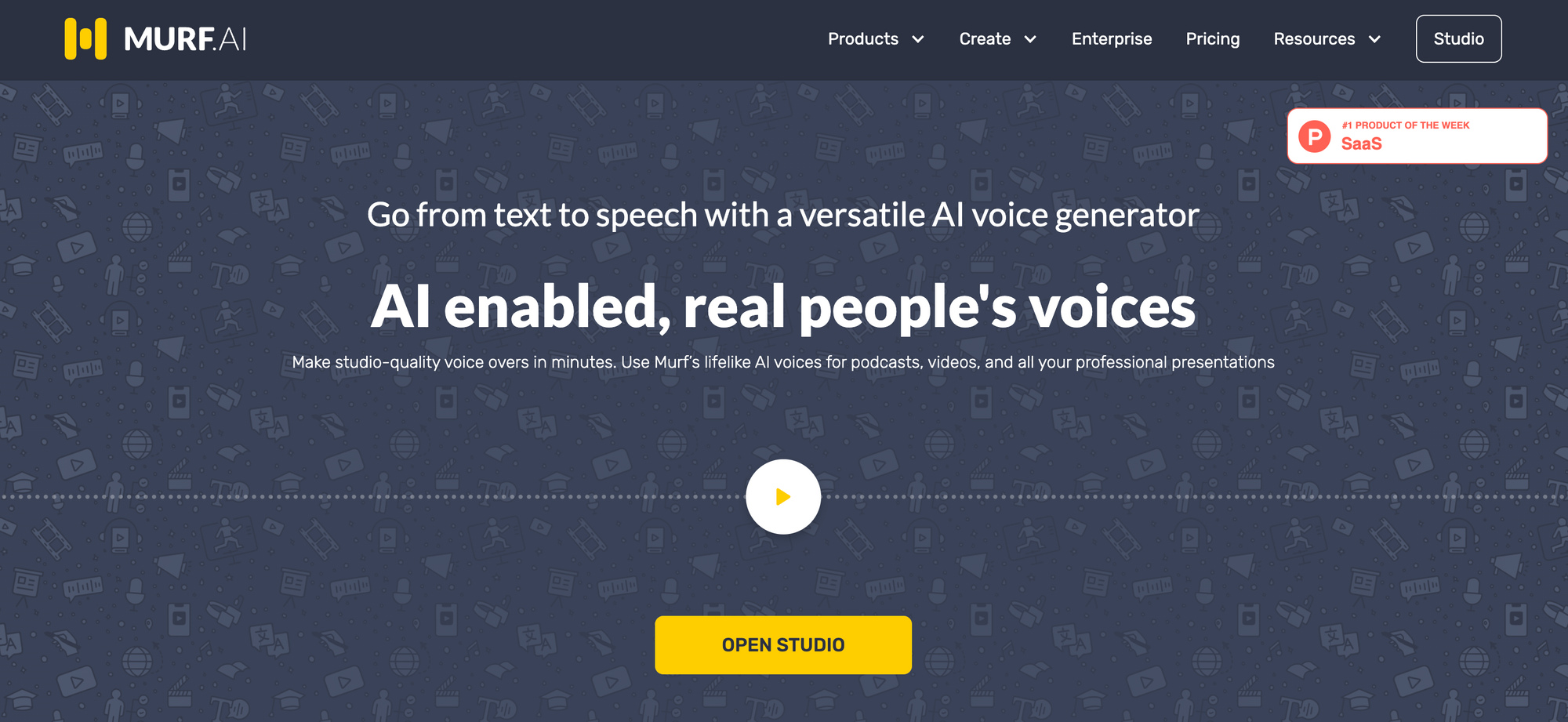 Nearing the top of our list for best text to human speech generators is Murf, which is one of the most popular and impressive AI voice generators on the market. Murf enables anyone to convert text to speech, voice-overs, and dictations, and it is used by a wide range of professionals like product developers, podcasters, educators, and business leaders.
Murf offers a lot of customization options to help you create the best natural-sounding voices. It has a variety of voices and dialects that you can choose from, as well as an easy-to-use interface.
The text to speech generator provides users with a comprehensive AI voice-over studio that includes a built-in video editor, which enables you to text to speech technology create a video with voiceover. There are over 100 AI voices from 15 languages, and you can select preferences such as Speaker, Accents/Voice Styles, and Tone or Purpose.
Another top feature offered by Murf is the voice changer, which allows you to record without using your own voice as a voiceover. The professional voiceovers are offered by Murf can also be customized by pitch, speed, and volume. You can add pauses and emphasis, or change pronunciation.
Key features:
Large library offering more than 100 AI voices across languages
Expressive emotional speaking styles
Audio and text input support
AI Voice-Over Studio
Customizable through tone, accents, and more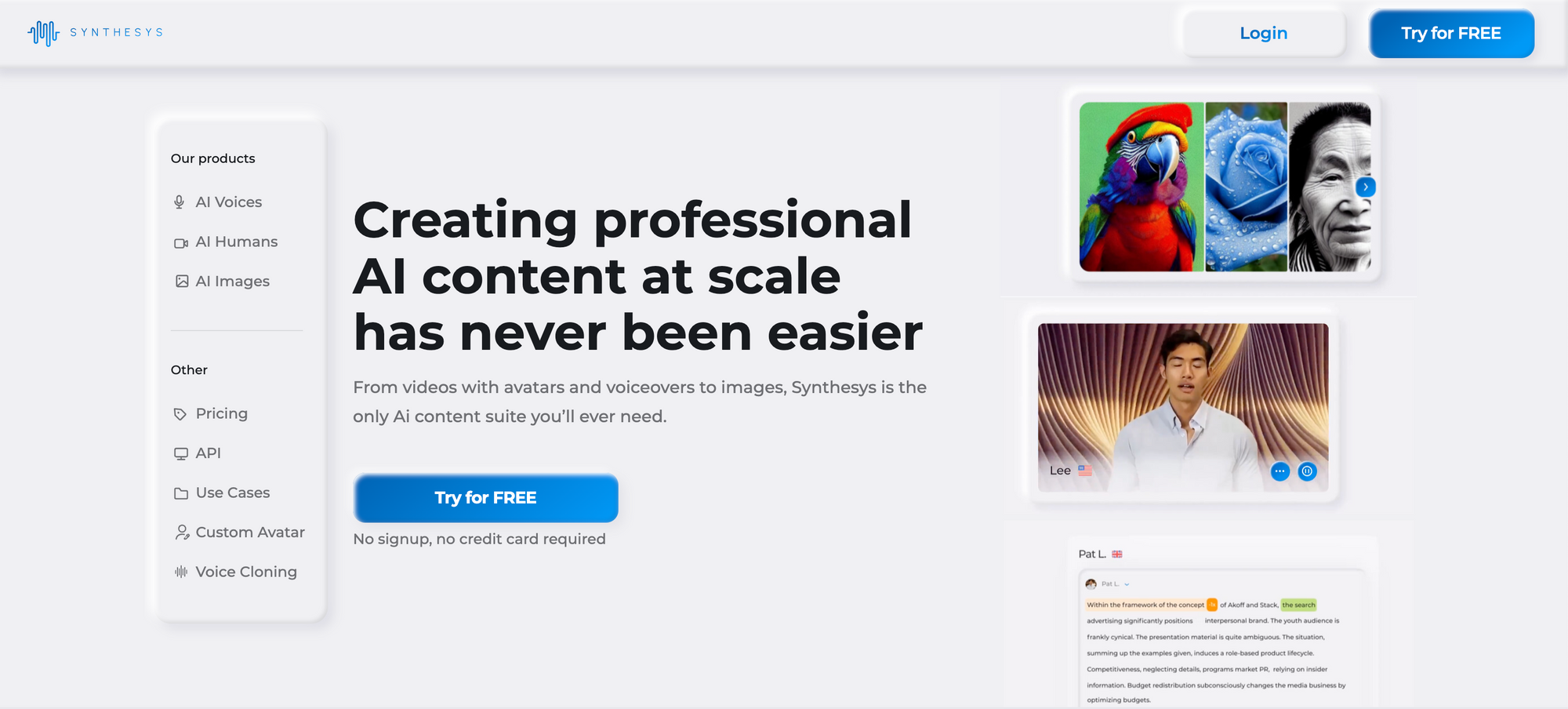 Synthesys is one of the most popular and powerful AI text-to-speech generators, it enables anyone to produce a professional AI voiceover or AI video in a few clicks.
This platform is on the leading edge of developing algorithms for text to voiceover and videos for commercial use. Imagine being able to enhance your website explainer videos or product tutorials in a matter of minutes with the aid of a computer generated voice or natural human voice. Synthesys Text-to-Speech (TTS) and Synthesys Text-to-Video (TTV) technology transform your script into vibrant and dynamic media presentations.
Key features:
Choose from a large library of professional voices: 34 Female, 35 Male
Create and sell unlimited voiceovers for any purpose
Extremely lifelike voices unlike competing platforms
The choice of emphasizing specific words to be able to express a range of emotions like happiness, excitement, sadness, etc.
Add pauses when the user wants to give the voiceovers an even more human feel.
Preview mode to see results quickly and apply changes without losing time rendering.
Use for sales videos, letters, animations, explainers, social media, TV commercials, podcasts, and more.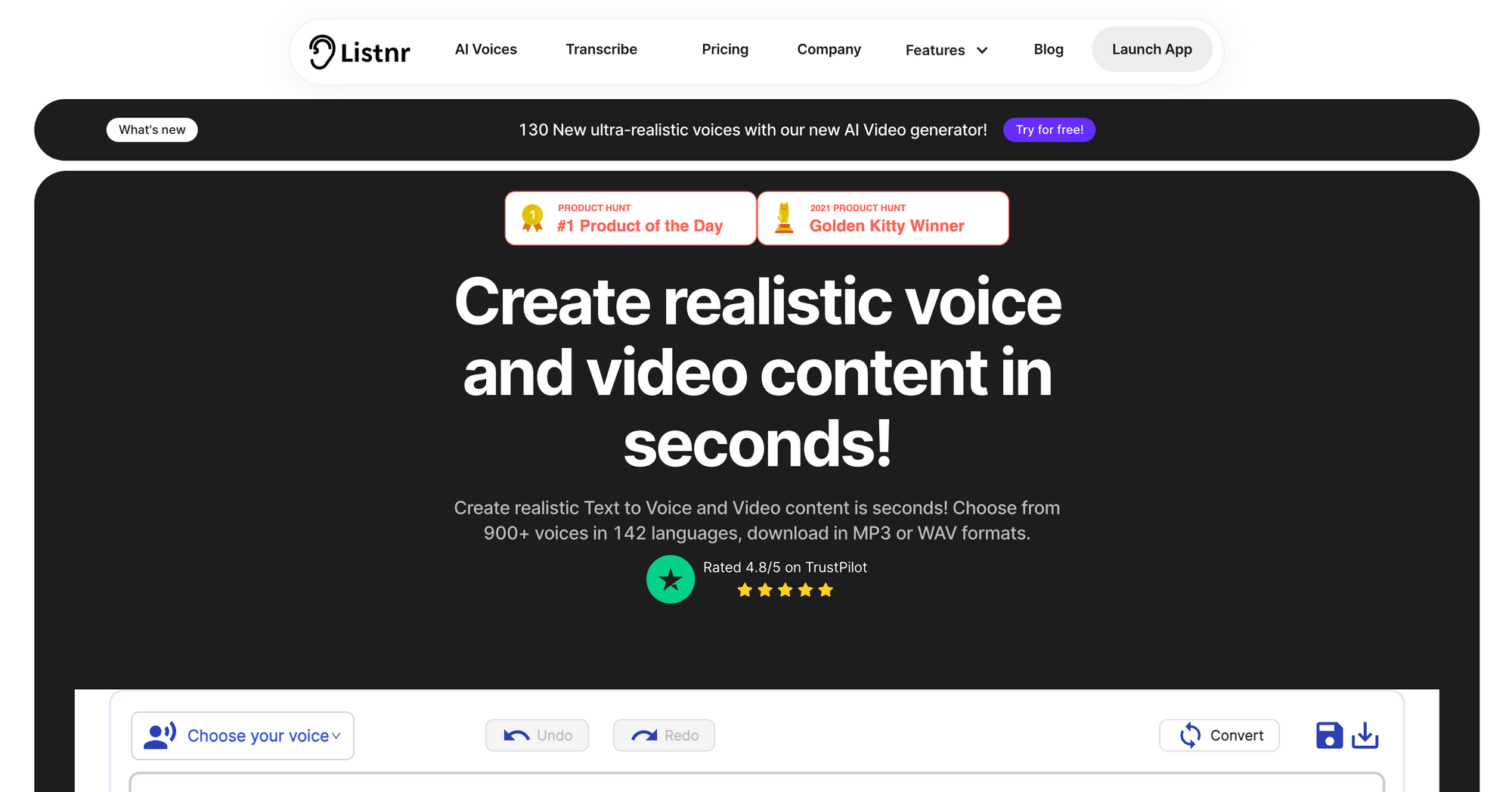 Another AI text to speech generator, Listnr can convert text to speech in various formats like genre selection, accent selection, pauses, and more. It also enables you to get your own customizable audio player embed, which you can then use to embed into your blog as an audio version of online text.
One of the greatest aspects of Listnr is that it's highly personalized to each individual listener and their preferences. It is a great tool for podcasting as it can help you monetize audio content through advertising. The text to speech generator can be used to distribute and convert audio with commercial broadcasting rights on top streaming platforms like Spotify and Apple.
Listnr supports more than 17 languages, and it can convert blog posts into various languages and dialects.
Key features:
Various formats like genre selection, accent selection, etc.
Customizable audio player embed
Highly personalized to each listener
Great for podcasting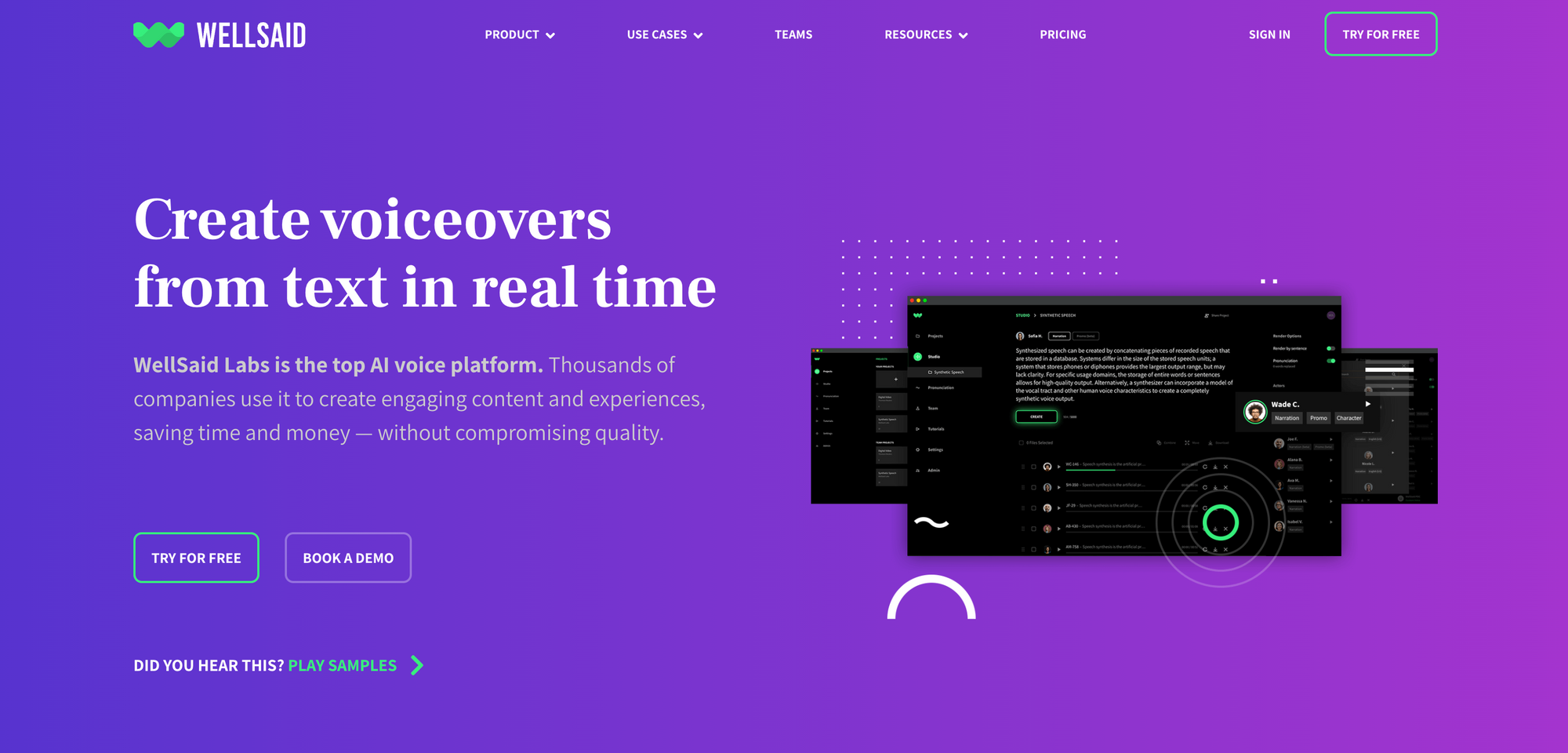 Meet WellSaid Labs AI Voices. WellSaid is a web-based authoring tool for creating voiceovers with Generative AI Voices.
The tool offers a diverse roster of AI voices always available to generate voiceovers as fast as you can type. Unlike competing options they offer some of the most lifelike AI voices, rated as realistic as human recordings.
Find the right voice for each training module. You can audition over 50 AI voices in different speaking styles, genders, and accents in real time. Get creative! Mix and match voices for scenario-based instruction.
A unique feature is the Pronunciation Library, speech tool that enablers users full control on how the AI tells your story by teaching it how to say things specifically how you want.
Key features:
Variety of voices available 24/7
Over 50 AI voices
Train pronunciation when required
No talent or studio bottlenecks
Flawless updates and edit in minutes
Renders twice as fast as spoken script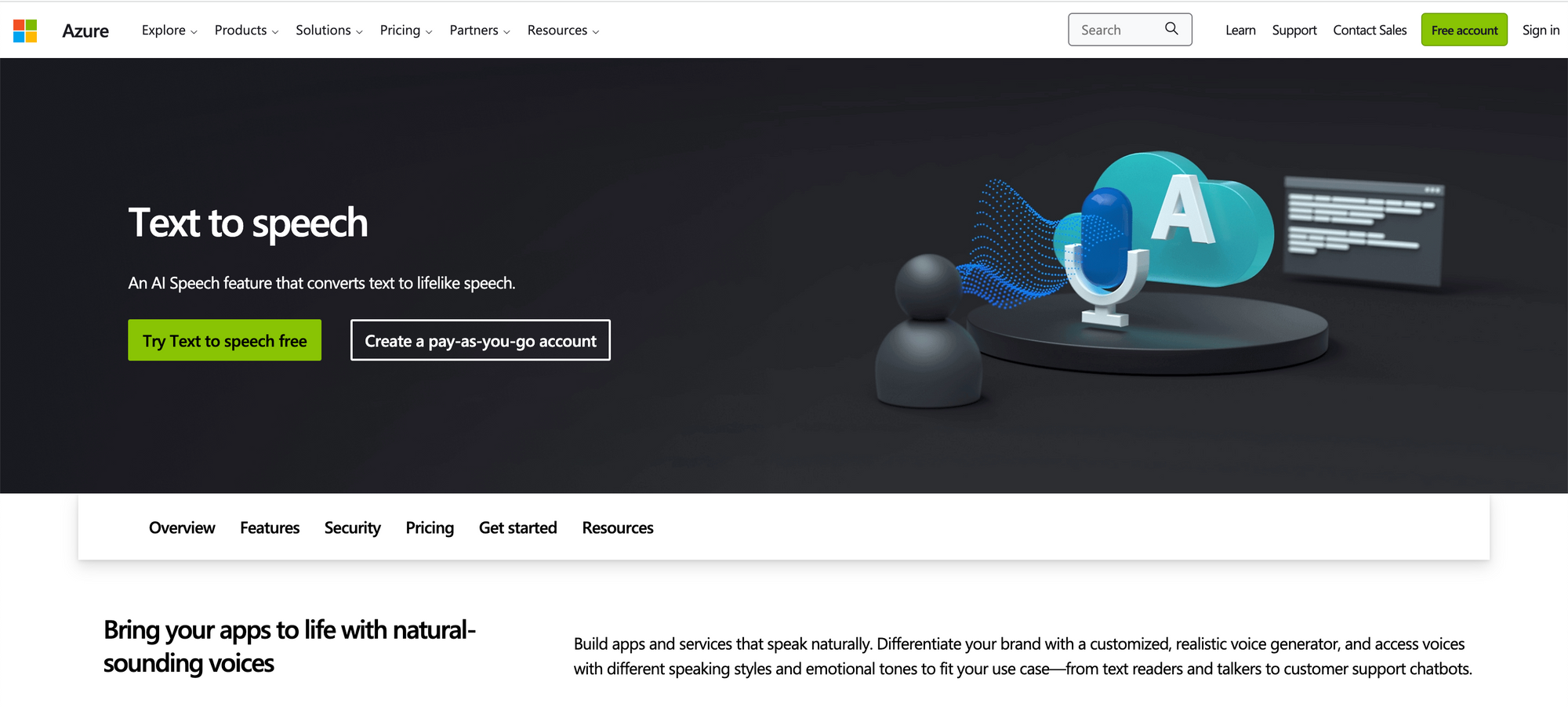 Microsoft have invested over $10Bn into OpenAI the company behind ChatGPT. It's therefore no surprise that Microsoft's cloud-based AI text to speech solution is super powerful.
Microsoft's text-to-speech solution is called Speech Studio and is part of Microsoft's Azure AI services.
Speech Studio comes with Voice Gallery which features over 400 voices across 140 languages and dialects but the real power comes from Custom Neural Voice (CNV) which lets you create a natural-sounding synthetic voice that is trained on human voice recordings. Your custom voice can adapt across multiple languages and speaking styles, and is perfect for adding a one-of-a-kind voice to your text to speech solutions.
The main downside is you'll need some developer support to integrate Azure AI but if you want the most realistic sounding AI voices it's well worth persevering.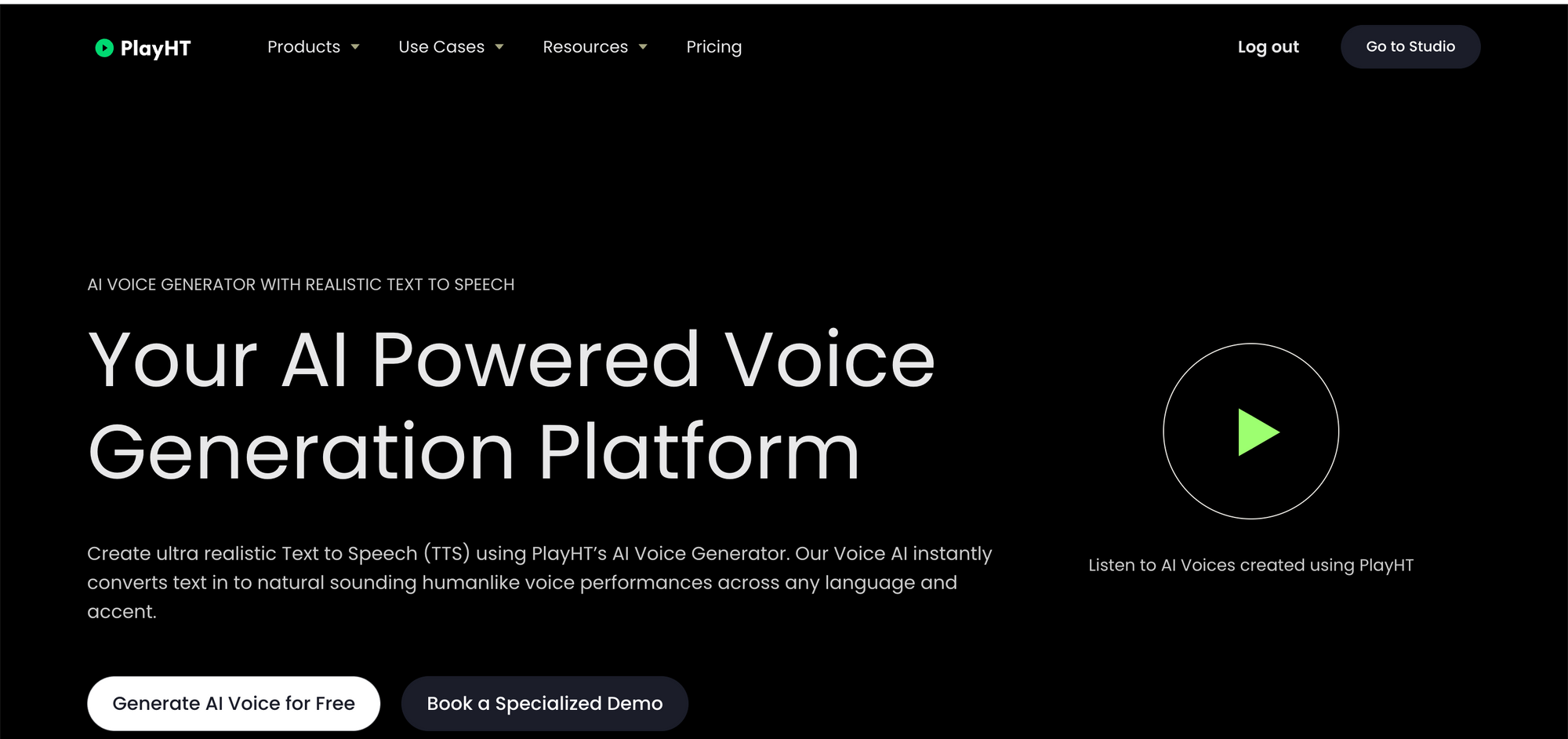 Play.ht is a powerful text to speech generator that uses AI to to generate speech from audio and voices from IBM, Microsoft, Google, and Amazon. It is especially useful for converting text into natural voices.
The tool allows you to download the voice-over as MP3 and WAV files, and you can choose a voice type before either importing or typing text. The tool then instantly converts the text into a natural human voice, and the audio can be enhanced afterwards with speech styles, pronunciations, and more.
Here are some of the top features of Play.ht:
Blog posts to audio
Real-time voice synthesis
More than 570 accents and voices
Voice-overs for videos, e-learning, podcasting, and more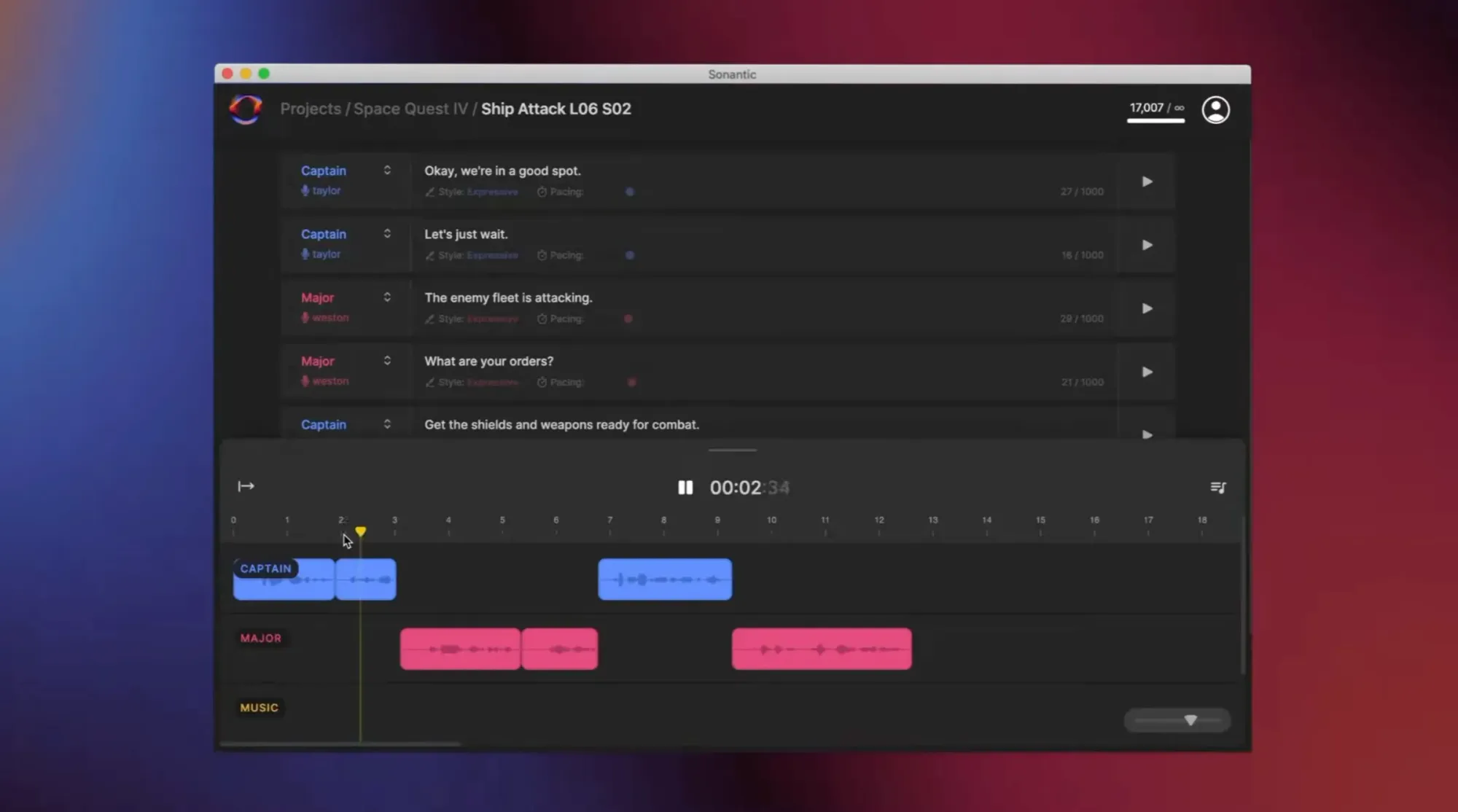 Sonantic has risen in popularity since it was used to help actor Val Kilmer reclaim his voice with a synthetic voice replica. The easy-to-use AI tool is popular in the entertainment industry since it enables lively voice expressions.
The tool allows you to change the tone of the speech generated, with tones like happy, sad, or angry. You can also customize the level of emotion through adjustments, and it works by simply copying and pasting a written or text file into the editor before waiting for it to be converted to audio.
These reasons are why Sonantic has been used for animations, films, and games.
Key features:
Human-like voice generator
Emotion adjustments
Voice parameters
Voice projects like Shouts or Fear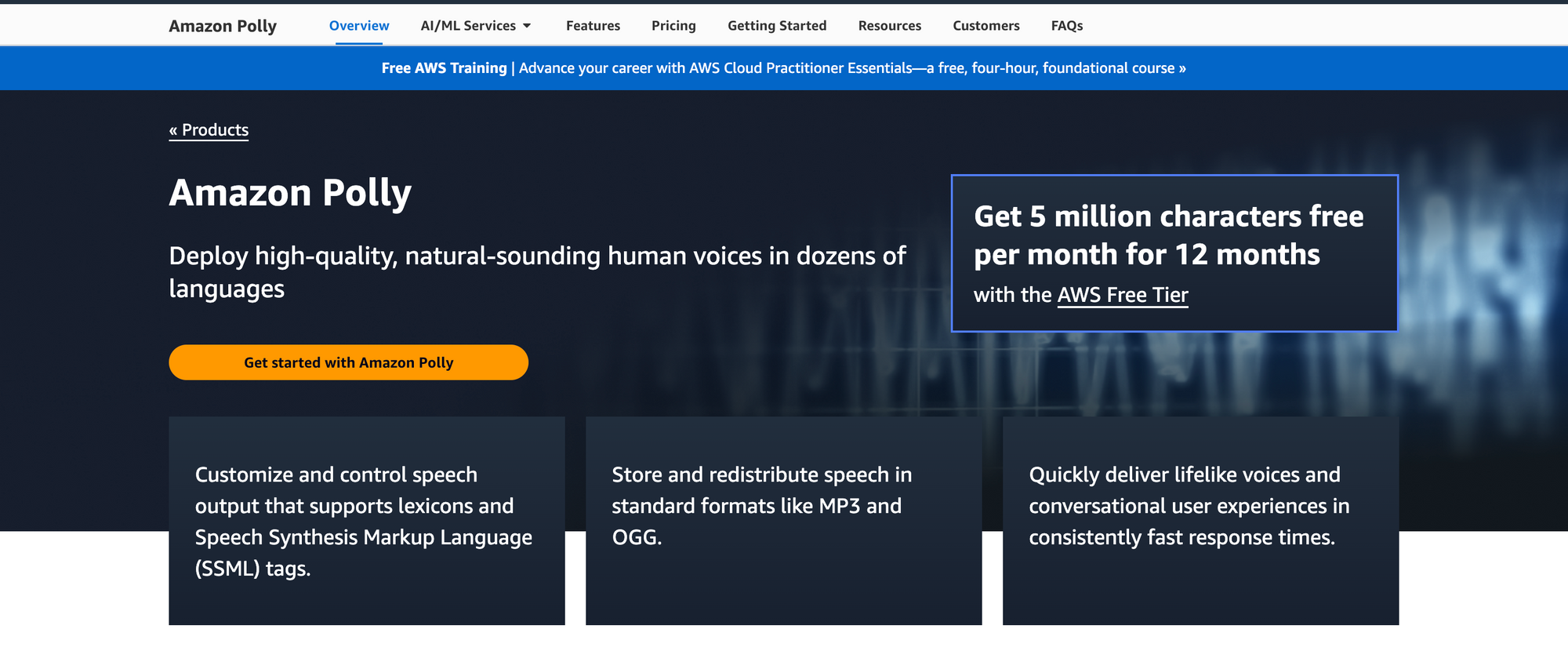 Alexa isn't the only artificial intelligence tool created by tech giant Amazon as it also offers an intelligent text-to-speech system called Amazon Polly. Employing advanced deep learning techniques, the software turns text into lifelike speech. Developers can use the software to create speech-enabled products and apps.
It sports an API that lets you easily integrate speech synthesis capabilities into ebooks, articles and other media. What's great is that Polly is so easy to use. To get text converted into speech, you just have to send it through the API, and it'll send an audio stream straight back to your application.
You can also store audio streams as MP3, Vorbis and PCM file formats, and there's support for a range of international languages and dialects. These include British English, American English, Australian English, French, German, Italian, Spanish, Dutch, Danish and Russian.
Polly is available as an API on its own, as well as a feature of the AWS Management Console and command-line interface. In terms of pricing, you're charged based on the number of text characters you convert into speech. This is charged at approximately $16 per1 million characters , but there is a free tier for the first year.
Key Features:
Affordable
Easy-to-use
Supports multiple file types
Multiple language options
---

How to choose the best text-to-speech software
When deciding which text-to-speech software is best for you, it depends on a number of factors and preferences. For example, whether you're happy to join the ecosystem of big companies like Amazon in exchange for quality assurance, if you prefer realistic or synthetic voices, and how much budget you're playing with.
What is the best text-to-speech software for YouTube?
If you're looking for the best text-to-speech software for YouTube videos or other social media platforms, you need a tool that lets you extract the audio file once your text document has been processed. Thankfully, that's most of them.
What's the difference between web TTS services and TTS software?
Web TTS services are hosted on a company or developer website. You'll only be able to access the service if the service remains available at the whim of a provider or isn't facing an outage.
TTS software refers to downloadable desktop applications that typically won't rely on connection to a server, meaning that so long as you preserve the installer, you should be able to use the software long after it stops being provided.
Do I need a text-to-speech subscription?
Subscriptions are by far the most common pricing model for top text-to-speech software. By offering subscription models for, companies and developers benefit from a more sustainable revenue stream than they do from simply offering a one-time purchase model. Subscription models are also attractive to text-to-speech software providers as they tend to be more effective at defeating piracy.
Free software options are very rarely absolutely free. In some cases, individual speech voices may be priced and sold individually once the application has been installed or an account has been created on the web service.
How can I incorporate text-to-speech as part of my business tech stack?
Some of the text-to-speech software that we've chosen come with business plans, offering features such as additional usage allowances and the ability to have a shared workspace for documents. Other than that, services such as Amazon Polly are available as an API for more direct integration with business workflows.
Small businesses may find consumer-level subscription plans for text-to-speech software to be adequate, but it's worth mentioning that only business plans usually come with the universal right to use any files or audio created for commercial use.
What is the best AI voice generator?
In my opinion 11-Labs, Amazon Polly and Microsoft Speech Studio offer the most natural sounding voice options currently out there. They also offer speech synthesis and allow realistic ai voices to be downloaded as audio files.